Disclaimer
All the information on this website is published in good faith and for general information purpose only. We do not make any warranties about the completeness, reliability and accuracy of this information. Any action you take upon the information on our website is strictly at your own risk and we will not be liable for any losses and damages in connection with the use of our website.
From our website, you can visit other websites by following hyperlinks to these sites. While we strive to provide only links to useful and ethical websites, we have no control over the content and nature of these sites and the links to other websites do not imply a recommendation for all the content found on these sites.
Please be also aware that when you leave our website, other sites may have different privacy policies and terms which are beyond our control.
Privacy Policy
You may give us personal information about you, such as your name, your contact email and other contact details on various places on our website. This privacy policy describes how we collect and use your personal information.
How and where we collect personal information:
– electronic newsletters
– chats and blogs
How we use your personal information:
The information you give us is absolutely safe with us. We will never rent, sell, share or otherwise disclose your personal information to third parties. We might contact you from time to time regarding the services you have subscribed to.
We may also send you promotional announcements from time to time about new products and services that you might find useful.
You may also opt out from receiving information from us at any time and ask us to remove your contact information from our database.
Terms of Use
Renewed Relationships Counseling Group Terms of Service ("Agreement")
This Agreement was last modified on April 15, 2016.
Please read these Terms of Service completely using stephaniemacadaan.com, therapywithstephanie.com, losangelescoparenting.com and createyourbestrelationships.com which is owned and operated by Stephanie Macadaan, LMFT. This Agreement documents the legally binding terms and conditions attached to the use of the Site at stephaniemacadaan.com, therapywithstephanie.com, losangelescoparenting.com and createyourbestrelationships.com.
By using or accessing the Site in any way, viewing or browsing the Site, or adding your own content to the Site, you are agreeing to be bound by these Terms of Service.
Intellectual Property
The Site and all of its original content are the sole property of Renewed Relationships Counseling Group and are, as such, fully protected by the appropriate international copyright and other intellectual property rights laws.
Termination
Renewed Relationships Counseling Group reserves the right to terminate your access to the Site, without any advance notice.
Links to Other Websites
Our Site does contain a number of links to other websites and online resources that are not owned or controlled by Renewed Relationships Counseling Group.
Renewed Relationships Counseling Group has no control over, and therefore cannot assume responsibility for, the content or general practices of any of these third party sites and/or services. Therefore, we strongly advise you to read the entire terms and conditions and privacy policy of any site that you visit as a result of following a link that is posted on our site.
Amazon Associates Disclaimer
Stephanie Macadaan, LMFT is a participant in the Amazon Services LLC Associates Program, an affiliate advertising program designed to provide a means for sites to earn advertising fees by advertising and linking to Amazon.com.
Governing Law
This Agreement is governed in accordance with the laws of California, United States.
Changes to This Agreement
Renewed Relationships Counseling Group reserves the right to modify these Terms of Service at any time. We do so by posting and drawing attention to the updated terms on the Site. Your decision to continue to visit and make use of the Site after such changes have been made constitutes your formal acceptance of the new Terms of Service.
Therefore, we ask that you check and review this Agreement for such changes on an occasional basis. Should you not agree to any provision of this Agreement or any changes we make to this Agreement, we ask and advise that you do not use or continue to access the Your Nowhere Town site immediately.
Contact Us
If you have any questions about this Agreement, please feel free to contact us at contact@therapywithstephanie.com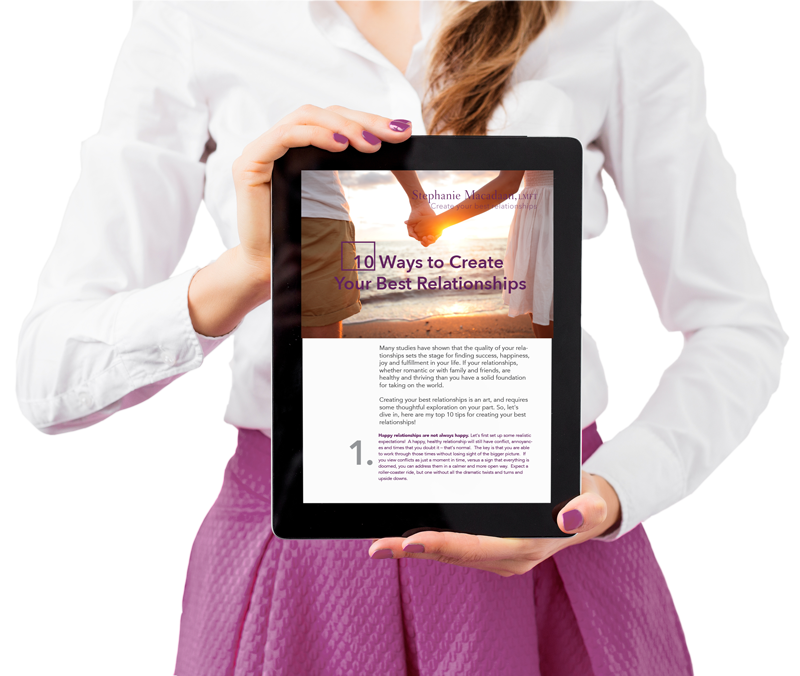 Sign Up Now for a Free Consultation
Creating your best relationships is key to living the life you want, so I'd love to share my favorite top "10 Ways" to do just that with you. Improve your relationships right now! Sign up below and I will send my guide to you right away, you'll also be signed up to receive occasional tips and information from me (don't worry I send very few emails and only ones that I truly believe would be a benefit to you).