All About Online Therapy
I meet with all of my clients online through my convenient telehealth office.
Online sessions are confidential and effective, only requiring a private space to meet, internet access and a computer or mobile device.
It's easy!  The morning of our session you will receive a link to click, which will connect you with me on my HIPAA compliant platform.
Below, I answer some commonly asked questions and provide more information about about the process, feel free to contact me to learn more!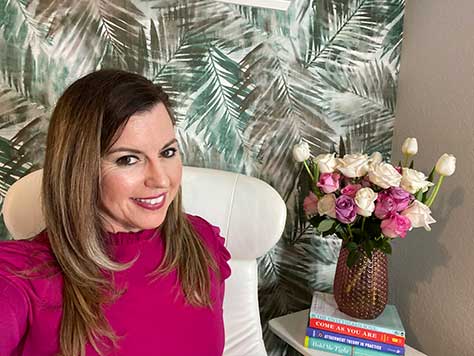 "Hello from my telehealth office, I look forward to connecting with you here." – Stephanie
Here are a few tips to help ensure an effective session.
Login a few minutes early to ensure you are ready to start at your scheduled time.
Check your internet connection and computer charge prior to session. It is also helpful to have your phone ready, with the SimplePractice telehealth app downloaded, in case needed for a backup.
Take a few minutes prior to the session to transition from your previous activity so that you don't come in feeling rushed.
Sit in a comfortable chair or couch. Do not attend sessions laying in bed or while in a moving vehicle.
Ensure you have privacy and no other distractions such as kids, pets or phones.
Refrain from eating or drinking alcohol during sessions.
What does HIPAA compliant mean?
This means your personal health information is protected by following the physical, network and process security measures required by the Health Insurance Portability and Accountability Act (HIPAA), which sets the standard for sensitive patient data protection.
Is teletherapy as effective as in person therapy?
I have worked with clients online for years, even prior to it becoming the norm during the pandemic. In many cases, I have found teletherapy to be more effective due to ease of attending sessions and that increased consistency allowing for faster progress. My clients enjoy being able to meet from the comfort of their home with no travel required and easier scheduling.
Many studies have been conducted exploring the effectiveness of telehealth, with almost all finding online therapy as effective as in person.  This article by the American Psychological Association gives more insight into recent findings, with a quote by David Mohr, PhD, director of the Center for Behavioral Intervention Technologies at Northwestern University's Feinberg School of Medicine, who has spent his career studying telepsychology and digital mental health. "What we've seen is that telehealth is essentially just as effective as face-to-face psychotherapy—and retention rates are higher," (Source: https://www.apa.org/monitor/2020/07/cover-telepsychology)
Do online sessions require me to have special equipment or know a lot about technology?
No, there is no special equipment or technology knowledge required. All you need is a computer, mobile phone or tablet and an internet connection. The morning of your session you will receive a link to click on to join our session and we will be connected in my private and confidential online office.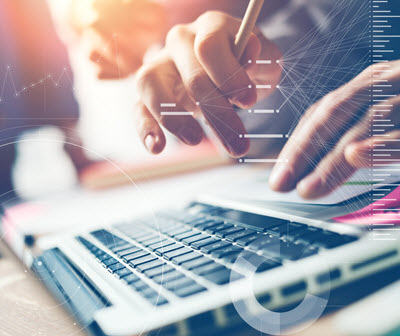 Get In Touch With Me Here